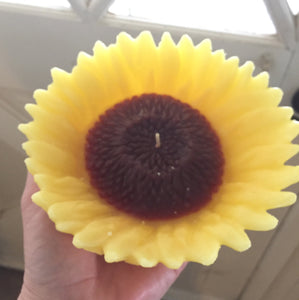 These sunflower candles are so big they make perfect floating candle for pools and large fountains. 
Made of all natural wax

100% cotton and recycled paper core wick.

Size: appx 5.75" (D) 

Burn Time: 16+ hours

Scent: unscented*

richly colored through-out**

Made in the USA 
P
erfect for Weddings, Receptions, Parties, Restaurants and Home, floating candles are a unique and enchanting way to light up any event. 

These unscented* " Sunflower shaped Floating Candles are HUGE and has an exceptionally long time. 
* No fragrance oil is added, however these candles are made in the same facility as scented candles and all those lovely scents waft about the room and deposit themselves in packaging materials like boxes and paper.
** colors are represented as true, however monitor settings and devices are often quite bright.