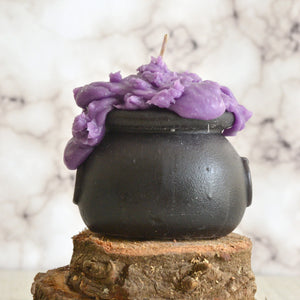 You never know what a witch has brewing in her cauldron, but I bet it wouldn't be as sweet smelling as this one. No frog wart's, or eye of newt in this candle!

Bubbling purple soy wax blend drips over a beeswax/para blended black cauldron. Scented in Berry Bewitching Brew. A peachy, apricot, scent full of blackberry sweetness, mixed with mandarin, cinnamon, and rose. (I LOVE making these; the earthy scent of beeswax mixed with the sweet berry fragrance makes my home smell divine!)

Cauldron candle measures: 2.5 tall x 2

Candles make a great addition to halloween parties, dinner parties, centerpeices and mantels.
As with all candles burn on a candle safe dish or plate.