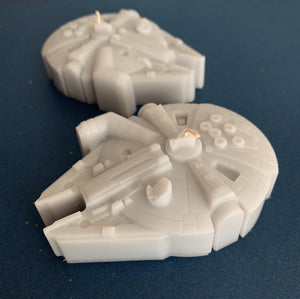 Is she the fasted hunk of junk in the galaxy? naw, it's just wax with a wick and although it won't be making the Kessel Run in 12 parsecs it does burn for about 1 hour.

Set of two candle

Each candle measures about 2 1/4 inches wide x 3 1/4 inches long and would make a great candle on top of a birthday cake for your favorite star wars fan.

Hand poured with gray paraffin / soy wax. As with all candles make sure you place on a candle safe plate or dish some dripping may occur.