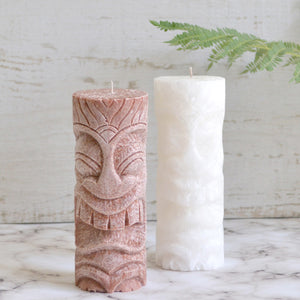 Having a romantic beachy boho wedding?  Or a poolside summer luau party, maybe you have a tiki bar or a whole themed tiki room compete with palm trees and hanging parrots and cardboard cutout pirates....or maybe not the pirates but that'd be cool if you do....maybe you're looking for a gift to give someone who has an affinity for Tikis either way here's a Set of 2 Tiki candles
Colors (1) brown (1) white.

Made in all natural palm wax with an all natural recycled paper core and 100% cotton wick.

Yes they are scented!. It's a light scent. Calm, serene....delicately noticeable.
The brown tiki is Tropical Tuberose which is a soft bouquet of orange blossom, ylang ylang & jasmine
The white Tiki Candle is Mango Beechwood. An enchanting blend of mango, tangerine with, beechwood, and amber.

Each candle measures appx 5 3/4 inches tall x 2 inches in diameter.